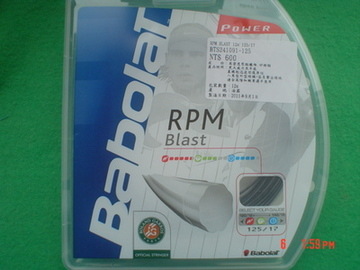 Babolat RPM Blast Tennis String 12m Set (1.25mm/17 )
Babolat RPM Blast tennis strings
Babolat RPM Blast (Black)

12m Babolat RPM Blast 17-1.25mm - Tennis String in special plastic case holder
Babolat RPM Blast 17 is constructed of a high density co-polyester. It has a cross linked silicone coating giving an octagonal structure resulting in maximum spin.
RPM Blast provides a unique feel, offering extraordinary topspin and a fast, powerful response.
Gauge: 1.25mm / 17
Colour: Black
Babolat RPM Blast 17 Set strings 1 racquet.
The Babolat RPM Blast is the string of choice for Rafael Nadal, Jo Wilfreid Tsonga and Samantha Stosur.
Fast, powerful response: greet ball speed out the frame. Maxizimed spin: thanks to the Cross linked silicone. Unique feel: high density Co - Polyester and coating.